Get Your Perfect Smile With Dr. Ahmad's Expertise!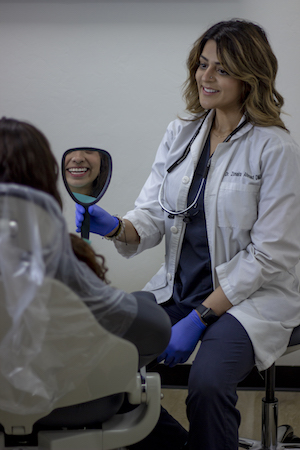 Our team at i240 Dental is proud to invest in the latest dental technology to provide more convenient, comprehensive, and high-quality dental care. We are proud to offer completely digital impressions with no more messy impression material! Dr. Ahmad is committed to offering the best materials and technology to give you the smile you deserve.
If you have questions about crowns, give us a call or just fill out the form below and we'll contact you about your dental care!
Get The Latest And Greatest With i240 Dental
One damaged tooth in an otherwise healthy smile can be disturbing. This is especially true if the damage is severe enough that a traditional filling is not enough to cover it. When this occurs a "cap", or cosmetic crown can be made to restore the appearance of the tooth. Think of it as a veneer that covers your whole tooth for extra strength. The crown is shaped to fit the damaged tooth and recreate the size and shape of the original natural tooth. Since the cosmetic crown is custom made, the color can also be matched to your natural teeth.
But there are times where you need to replace an entire tooth that causes a gap in your smile. In that case, we can place a fixed bridge by utilizing one or more crowns to permanently attach the replacement. Just like with crowns, bridges are custom made in a variety of materials, so the color and shape can be matches perfectly to the rest of your teeth.
When a large group of teeth, or a whole mouth, needs to be replaced at once, dentures are typically called for. Dentures supply a life-like replacement to teeth lost due to gum disease, decay, or even injury and can help the patient regain a normal life. First, we determine which, if any of your natural teeth are strong and healthy and can be saved. These may be used as anchors, or dental implants may be put in place to hold your dentures. Any teeth that need to be removed are extracted and the dentures are custom fitted to your jaw line. We use a process that allows you to walk out with your dentures in place the day your remaining teeth are removed.
Strong And Beautiful Crowns Right Here In Oklahoma City!
i240 Dental is proud to bring Digital Intra-Oral Scanning technology to the Oklahoma City. If you need a dental crown, bridge, dentures, or another dentistry service, give us a call or fill out the short form below for us to reach out to you!